We have been hard at work for years and have many milestones to celebrate in the coming months – and that's why 2023 is a monumental year for us. To properly capture our successes, we are updating the name of our organization and the project to The Loop Dallas.
The comprehensive update defines what we are accomplishing – a shared resource that connects the City of Dallas around the urban core, bringing together neighborhoods north, south, east and west.
This includes an update to our logo:

Built off the success of the previous logo, the addition of the word "Dallas" sets the geography and impact. The logo keeps the same font, Avenir, adding Dallas in a slightly reduced font size, and reducing the kerning to make the logo more dynamic. In copywriting we will no longer capitalize all of the letters in "loop." It will appear as "The Loop Dallas".
A website for people who use the trails
For additional support of this year's goals, we've restructured our website for a more comprehensive experience for visitors, returning stakeholders and trail goers. The new site shares more on the history of The Loop Dallas, our team, partners and progress on new trail construction.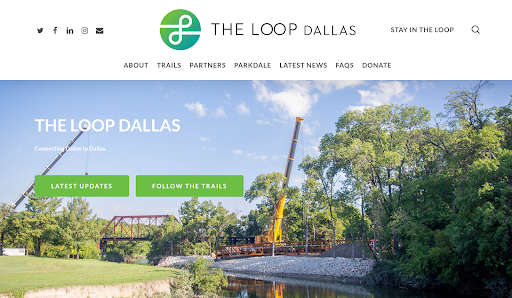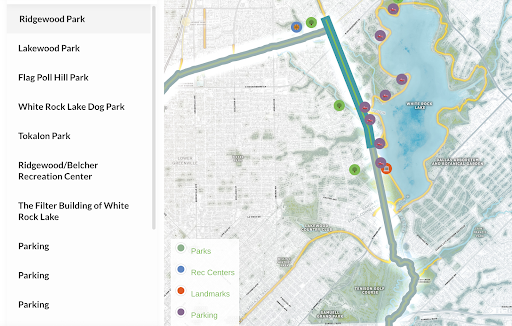 For those looking to use the trails more, our new site has interactive maps allowing you to explore the different amenities along The Loop Dallas. You can plan your whole trail experience including access points, the types of amenities around the trails (like bathrooms and parks), where to park if you drive to a trail, and other public places to make the trails your own. We're excited about this unique feature that allows trail users to learn more about all the trails we are connecting – and the value each holds in our city.
My Dallas Trail Story
The updated site will also highlight you: Trail users!
Each month, we'll be sharing a new story about how people use the trails in Dallas. Each piece will highlight a different way you can use trails, tips and favorite places to visit, photos of our city – all with detailed directions so anyone can hit the trails!
We're starting with my personal trail story to get the ball rolling and look forward to sharing your story soon.